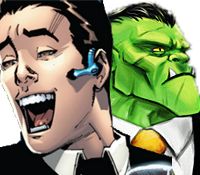 Re-introducing your favourite pundits Garry "Golden Boy" Walker and Thonk "The Thinker"
[Garry] That's right sports fans thanks to "Sir" Gerald Dorksworth, we are free and back on the holo-vids.
[Thonk]
Garry there is no way you can think that we are going to be free - it's going to be a Mighty Dorks songs of praise from here on.
[Garry] Thonk, we've talked about this - Gerald Dorksworth is a fine upstanding pillar of the community. *Cough*
[Thonk]
In the interest of staying on the air I will shut up.
[Garry] A wise idea my clever green friend. Well on with the show.
[Thonk]
We are here for a preview of our season preview, mainly because teams cannot seem to work out their own identity.
[Garry] Season 3 is set to be huge Thonk, maybe all these GIANTS are scaring the coaches of previous seasons into changing their approach.
[Thonk]
Or just their name as the newly christened 'The Law' seem to have done. How anyone has been taken by this new team is beyond me - the only thing different between them and the Arkand Ramz is that The Law seem to be able to win.
[Garry] Thonk, we've only just closed a legal case let's not start again. But I can see where you might get that idea. In other news rumours have it that
The Kilika Beasts
, season 1 and 2 fan favourite's will not attempt to hold their status as Brutes and Thugs in season 3 - what can this mean?
[Thonk]
I think Beasts chairman Chris Daubney has got bored of writing condolences to the unfortunate victims of a "Beasting"
[Garry] Well I am sure that his new team
The Laniidae Shrikes
will be equally entertaining - just a little more on the human side.
[Thonk]
Other teams we have heard rumours of are the Titan Wasps, the League of Super Villains and the Osaka Squids. As always we will have more news as soon as we have it.
[Garry] And during Season 3 we will be bringing all the high speed action and analysis you came to expect before ARC Corporation tried to shut us down.